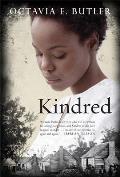 Kindred
Octavia Butler
Beacon Press (MA)
ISBN13: 9780807083697
ISBN10: 0807083690
Every so often, I come across a book that disappoints me only in the fact that the story has to come to a close. As brutal as much of the action is, Octavia Butler's Kindred is a masterful piece of storytelling about making peace with originating families and a past that we cannot change.
The copy that I was reading was from the 25th anniversary printing of this book, originally written in the 1970s. I deliberately avoided the "book club guide" — with its critical essays — at the end of the book, because I didn't want my own reading experience or perception to be colored by someone else's opinion or suggestions, even after the fact.
I read Kindred as Butler's attempt to come to terms with interracial America — desegregated military, schools and workforce in addition to interracial relationships — by reaching back to the country's troubled past. This is science fiction from the standpoint that (unexplained) time travel is involved, but the rest is an expertly imagined historical novel that pulls at both the heartstrings as well as one's moral conscience.
The experience that Dana — the story's protagonist — has in traveling suddenly back to an early 19th-century Maryland plantation is harrowing. Even more chilling is the reassurance offered her by the Weylin family's slaves that even with the poor living conditions, beatings, sexual abuse, splitting of families due to slave sales and more, things really aren't so bad on this particular farm in comparison to the way some of these people had been treated by previous "owners." Even as Dana fights against her 20th-century sensibilities in order to keep herself from getting into trouble as a black woman in the early 1800s, she similarly is fighting the kind of numb complacency that settles too easily on the shoulders of people who find themselves trapped in abusive and intolerable conditions.
If Dana's window — as an educated and professional black woman from 1976 — on the stark realities of slavery isn't enough, her husband accidentally travels with her on one of the her forced trips back to the Weylin plantation. As a white man, Kevin has a drastically different experience of life on a 19th-century farm, though the prolonged visit leaves its dark scars on him as well.
Several years ago, I began a research project into my own family's past. Although I don't recall hearing any stories about bondage, I grew up with the assumption that at least a few of my ancestors were slave holders. It's been a while since I was last looking into that rather dark corner — really, who wants to find out something like that about blood relatives? — and while I've not yet proven that history, I've come pretty close through family trees and census and property records.
Frankly, I'm glad that I read this book at a time when we have an African American in the White House, and I'm sorry that the author (who died in 2006) didn't get to see this in her lifetime. I'm still reeling from the few days I spent in the company of this tale, and I can't recommend Kindred highly enough to anyone who considers him/herself a thoughtful reader.