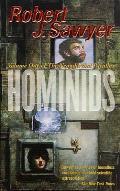 Hominids
Robert J. Sawyer
Tor Books
ISBN: 9780765345004
** 2003 Hugo Award for Best Novel **
I've not been very good lately about reviewing the many books I've been reading. Of course, I never set out to review every volume that passes through my hands. Some of them are utterly forgettable. But then sometimes I come across a book like "Hominids," and I just can't praise it enough.
Given the size of the book, "Hominids" is a surprisingly quick read — and a very good one at that. Sawyer obviously did quite a bit of homework in preparation for writing this story, but he still manages to blend paleontology, genetics, physics, and more rather seamlessly with his engaging plot-line while also building a credible world in a parallel universe. There isn't a wasted word in this story — a rare treat these days — and it left me wanting more! I'm glad there are more books in this series.
I admit that I was already a fan of Sawyer's before I picked up this book. I'd previously enjoyed his Flashforward, on which the 2009 television series was based, and had the good fortune to interview him for an article I wrote about the Launch Pad Astronomy Workshop for Writers program for The Writer. Sawyer is as generous and wise in real life as he is in his work.